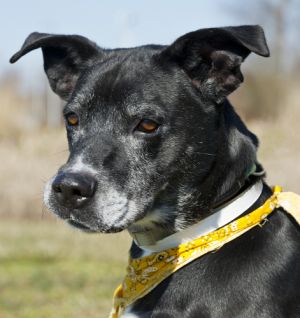 D-45014 Star **Pooch with Perks** Lab/ Boxer mix age 8; Star is always excited to see people. This 68-pound dog loves to go for walks and is very well behaved on leash. Star still has wonderful energy for a senior dog. Most of the time Star has such a goofy look on his face, you cannot help yourself from smiling. Star must be the only animal in the home. If you are looking for a wonderful walking companion. Burlington County Animal Shelter, Mount Holly, NJ
•609-265-5073
http://www.petfinder.com/petdetail/21328654
click here for full posting!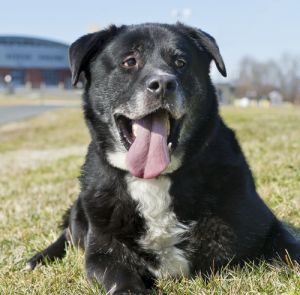 D-45037 Big Ben**Pooch with Perks** Labrador Retriever Mix
Calling all X-Large Dog Lovers! Ben is a big boy at 118 lbs. Ben arrived at the shelter as a stray and is estimated to be 7-8 years old. Ben is in his senior years, so it is physically difficult on his bones/joints to stand and sleep on a hard, cold concrete floor 24 hours a day. Ben's large size compounds the physical stress on his body. Ben loves to take walks. He is good on leash for such a big boy. Ben has the most beautiful black shiny thick coat you'll ever see. He would definitely love to romp around in the snow. He has to be mixed with Newfoundland as well. Ben should be the only dog in the home.
http://www.petfinder.com/petdetail/21288600
click link for full bio.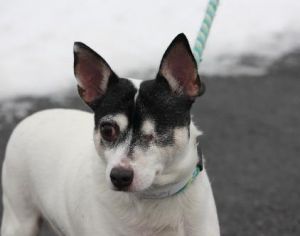 D-46204 Capt Jack a Jack Russell Terrier; Capt' Jack is a seven year old Jack Russell that came in as a stray and seems to have lost his eye patch on the way. Yes, Capt' Jack may only have one eye but he has a big heart and is looking for a new ship/home to call his own. Missing an eye does not pose a problem for this little guy. He won't plunder but will just snuggle with you as you watch Pirates of the Carribbean on the couch together. Please come see this little guy and give him the home and love he deserves.
http://www.petfinder.com/petdetail/22062351
click link for full bio and info.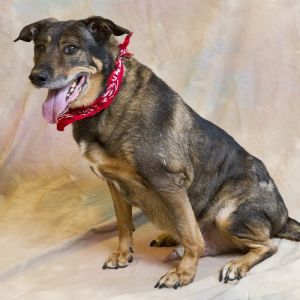 D-46387 Max a 10 year old Shepherd Mix.
MAX was surrendered by no fault of his own and he weighs 90 pounds. His former owner says Max is friendly and calm and enjoys being close to humans and loves attention. He is housebroken and leash trained, loves adults and children but does prefer to be in the company of women. Please don't let this sweet guy spends his last years in a shelter!!! Please come see Max and see if he is the loving pet that would be great for your home.
http://www.petfinder.com/petdetail/22162890
click link for full bio and info.
D-46430 Helen Senior Miniatrue Pinscher. This senior min pin mix was found as a stray. Poor Helen is partially blind (likely cataracts) and deaf, and probably wandered off and could not find her way home. Our hearts go out to this frightened, yet friendly old lass who just wants a lap to cuddle in. We hope her people find her very soon. If they dont, do you have a calm, secure haven for her? Shes a tiny girl at only 10 lbs and about 10 years old. We do not recommend a house with young kids, as Helen is so small and vulnerable.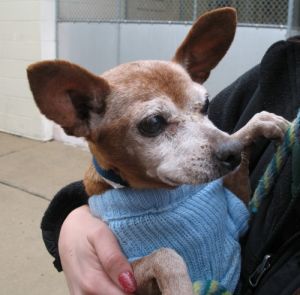 http://www.petfinder.com/petdetail/22215455
click link for more information and adoption info at Burlington County Animal Shelter. MT. Holly, NJ. 609-265-5073